What our customers say...
Last year everyone on the October break re-booked for next year which must speak volumes!!!
Jenny Baxter and Angela Rogers and their dogs Sandy, Bobby and Harvey.
Jenny Baxter and Angela Rogers have been attending since the holidays started. Angela said: "My dog, Harvey, and I have been going on Barking Mad Breaks every year since 2008. In fact, since 2010 we have been on every single Barking Mad Break that has taken place. (This is usually two or three a year). We never want to miss one and consequently I arrange my other holidays after I know the dates of the Barking Mad Breaks.
The holidays are such fun for the dogs and the owners and you get to spend quality time with your dog whilst taking part in various activities. These include agility, flyball, rally obedience, massage for dogs, train trip to Ludlow, dog games and walks. You do not have to have any previous experience of these and, if you don't want to take part in a particular activity you don't have to. The whole holiday is very relaxed. Your dog sleeps in your room and does not have to be in a crate. The meals are also delicious and it is always better if someone else has done the cooking! You meet so many friendly and dog-loving people and, of course, you all have something in common. Some evenings there are talks or quizzes on dog-related matters
I highly recommend these holidays as the whole break is most enjoyable and there is a relaxed atmosphere and I certainly do not intend to miss any future breaks."
Joanna, and her dog Brontë

I just wanted to say thank you for organising such a brilliant weekend. Brontë and I had a fantastic time. It was the first time we had been away together, and I was a little apprehensive about coming away on my own but thanks to your welcome, and the way we were all made to feel so cared for, people and dogs alike, I had such a wonderful adventure, and would love to come again. The farmhouse is beautiful, and a lovely base but it was the people there that made it. The food was superb and I was blown away by the choices and the quality of all the meals. Both you and Leigh bent over backwards to accommodate us all and our little quirks, and those little extras, such as the rosettes and prizes, helped to make it special. Brontë and I have never done any agility or rally obedience or flyball but everyone was so patient with us, and supportive and made it a really positive experience. I have attached a few photos from our weekend.
Please, could you let me know when you get the dates for next September, as I would love to rebook if possible?
Thank you again to you and Leigh for everything, and I hope to see you again next year.
Lynda Cunliffe and Yogi
have become a regular fixture on the breaks. Lynda said: "Yogi and I had a fantastic time and have already booked for next year."
---
Tracey Marshall and her dog, Charlie

have been on several Barking Mad Breaks, she said: "The whole weekend was fantastic. It was really good to have such a mix of people (age ranges), and actually lovely to have such a large group (of people and dogs).

---
To be honest, I'm not sure what you could improve. It is a fantastic idea, and we loved it."
---
Alison Bradshaw,

and her dog
Marla
Marla and I had a FANTASTIC time and can't wait for October to arrive. In fact, I've just marked it on my kitchen calendar and counted up the weeks!
Alison Bradshaw said:
I just wanted to say a huge Thank you from myself and Indi for a lovely weekend.

Like everyone, I had a few reservations about what to expect but they disappeared rapidly as we were made to feel so welcome. Indi and I had a super time and it was lovely to actually just spend some quality time with her without all the usual day to day hassles and worries.

Please say a very big thank you to Leigh for all the lovely food. I think we all felt thoroughly spoilt and it far exceeded my expectations. Such a treat to have someone else do all the cooking ! And the lovely cakes ....wow ! A real treat from start to finish.

I will definitely book another holiday with you.
Lucinda Steiner with Petrus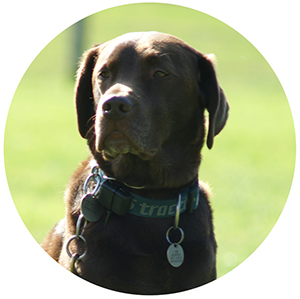 As a surprise Christmas present in 2016, my sons treated me to a 5 day Barking Mad Break. Initially, I was full of apprehension but Sue the
organiser rang me and put my mind at rest.
Dogs and owners stay in a large Farmhouse and we are all like-minded people - it's like being in a large happy family with a lovely atmosphere.
There are daily dog-related activities arranged, which include walks in the stunning Shropshire countryside.
The majority of people have been before, which speaks volumes, but newcomers are welcomed equally.
Leigh comes in and cooks all the lovely food and her cakes are legendary.
In the evening there are talks and quizzes arranged, all with a doggy theme.
I can thoroughly recommend these breaks, Petrus my 6 year old chocolate Labrador and I, are just back from our fourth holiday and we can't wait for the next one in March.