Borrow a dog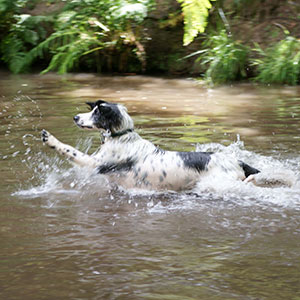 You don't even have to own a dog of your own to come on a Barking Mad Weekend!
For those would-be dog owners, there is the option to 'borrow a dog'. As part of this scheme there are two well behaved Border Collies who are well socialised and will give friendly support to participants.
For those more experienced dog handlers, we have linked with a local dog re-homing organisation - Animal Samaritans - who will provide dogs currently with long term foster carers for day time activities. These lively, loving canines will return home each night to minimise any disruption to their well ordered lives.
A donation of £20 to Animal Samaritans is levied to anyone taking part in the 'borrow a dog' scheme.
MOSS HAS NOW BEEN RE-HOMED!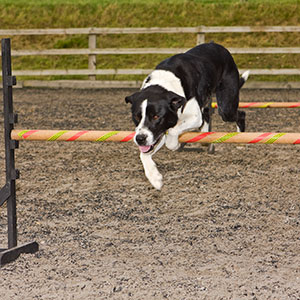 Moss - a young border collie cross - took time out from his life in kennels to join other dogs on a 'Barking Mad Weekend' break in South Shropshire.
Moss was the first Animal Samaritanss rescue dog to join Barking Mad Weekend's loan a dog scheme where guests without a dog of their own can borrow one for the weekend to stay with them overnight and participate in dog agility, flyball and country walks. He proved to have considerable ability for both agility and flyball and was immediately at home with the other dogs and guests on the holiday at Eaton Manor near Church Stretton.
Organiser, Sue Corfield commented: "Moss was fantastic, he got on brilliantly with the other dogs and was very responsive. He ran off the lead and came back when called and he was incredibly talented at Flyball picking it up really quickly. He is bright, obedient and very loyal and affectionate. He deserves a really special home."
Moss is one of several Animal Samaritans dogs being boarded at kennels near Shrewsbury who are looking for kind loving homes. Moss was brought in by the dog warden, so very little is known of his background.
Carol James, founder of Animal Samaritans, commented: "We are delighted that it all worked out so well for Moss. He has a lovely temperament that made him ideal for the 'borrow a dog' scheme. We will only provide dogs where we feel it will work to benefit of him or her. Now, we hope he will go on to find the kind, caring home he deserves."
For more information on Moss or any of the other dogs being cared for by Animal Samaritans call Carol James on 01588 676106.