Dog & Owners Weekend Breaks & Activities
You can join us for a fantastic dog activity break in the stunning South Shropshire countryside comprising four nights bed and breakfast and three course dinner, lunches and teas all within a half timbered 16th century farmhouse on the famous Acton Scott estate.
From this 'get-away-from-it-all' base you and your dog can participate in accompanied dog walks, a train trip to the historic town of Ludlow where you'll enjoy a picnic by the river and a wonderful walk through the wooded hillsides overlooking Ludlow Castle then there's more active fun in the form of flyball, dog agility with international agility champion, Lee Gibson, scent work with APDT qualified Carole Thornley, a doggy 'who dunnit' canine murder mystery evening and on the summer break, a chance to try hydrotherapy. (NB itinerary varies for each break). Better still, your dog will even share your room and will participate in all of the activities.
This is a real 'dog indulgence' holiday where you will join like minded people and your dog will let his /her hair down and run free with other canines to have the time of their life.
The indulgence doesn't stop at dogs! Leigh Francis provides full board meals with a full breakfast, selection of sandwiches and goodies at lunch time and home cooked dinners in the evenings, not forgetting wonderful tea and cakes every day. There are even homemade cookies for dogs!
With log fires to relax in front of and guest speakers planned for the evenings, there's something for all dog owners to enjoy.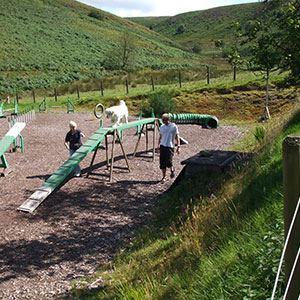 Agility
Agility tuition is available to all levels, from beginners up to experienced competitors or those who attend agility sessions at home to give their dog fun and exercise. Experienced instructors provide tips and insights into how to get the best from your dog. Classes are taken by top agility trainer and competitor Lee Gibson or Ceri Jones.
Flyball
Most dog love to chase balls and flyball combines a line of small hurdles with ball chasing exercises. Carole Thornley (APDT) instructor provides a sympathetic introduction to this activity and gets all the dogs having fun in a safe structured manner.
Walks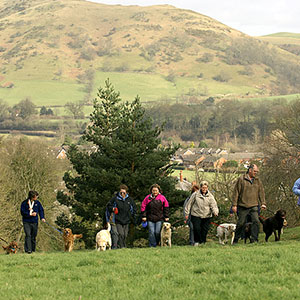 South Shropshire is blessed with miles of beautiful hills and countryside with walks a plenty! The breaks have a range of walks to suit all abilities from easy walks over undulating fields and woodland to harder hills with awe-inspiring scenery and magnificent views. There are plenty of opportunities to let dogs run off lead, although it is down to each owner to judge their dog's attitude to sheep which are often encountered on the open hillside walks.
Go Xtreme
Barking Mad Weekend breaks has gone Xtreme with the introduction of a 'super summer fun' where you can put yourself to the test with an eight mile CaniCross run with Leigh Francis and her wonderful rescue Labrador, Bob. The route is relatively gentle through the wonderful ancient woodland around Wenlock Edge but is designed to test the mettle of dog and owner with some navigational challenges.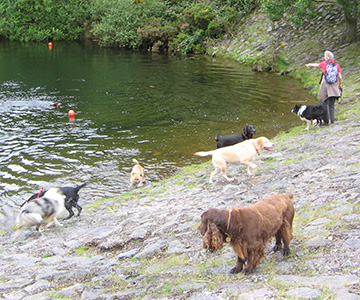 There is also 'open water swimming' at Cardingmill Valley Reservoir. Life jackets are provided for your canine companion and a fully qualified swimming coach will be there to direct a series of activities for you and your dog. Wet suits will also be available for hire in advance.
Train rides to Ludlow
Barking Mad Breaks take place just a short train ride from the medieval town of Ludlow with its majestic castle, river and wooded hillsides. On some breaks (usually during the summer), guests and dogs embark on a train journey to this lovely town. Here, the party walks through the alleys and streets past half-timbered shops and houses and on to the castle before heading down to the river for a picnic lunch. Afterwards, a walk through the ancient woodland of Mortimer forest completes the experience before the return train journey returns the party in time for tea and cakes.
Doggy Who-dunnit
On certain breaks, evening entertainment takes a decidedly more sinister turn, when guests pool resources to guess 'who did it!' A team of professional actors lead guests through a maze of intrigue to arrive at a decision about the identity of the murderer. Dogs all get to play a part in this grisly scenario and make their presence known as their owners interview the visiting players.
Scent trail work
On most breaks Carole Thornley leads owners and dogs through an introduction to scent trail work. She explains the basics and sets exercises for owners to carry out with their dogs.
Obedience
On some breaks, obedience classes are held by either Janet Jones or Sandra Fraser. There is the opportunity to be tested for Good Citizen Awards if organisers are notified in advance.
Treasure Hunts
When and where appropriate, treasure hunts are organised involving guests and their dogs being split into teams and follow a trail of clues. Winning team members win prizes.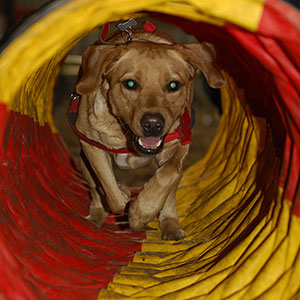 Fun & Games
Janet Jones, dog trainer, has been working with Barking Mad breaks since its conception and, no matter what size or type of dog or its skill level, she injects fun into a range of games and exercises that are designed to cement the bond between dog and owner. Remember the adage, like couples: dogs who play together, stay together!!!
Evening Speakers
A variety of guest speakers are arranged during the evening. These speakers cover different dog related subjects from emergency dog first-aid to animal rescue work. Over the years, speakers such as Pen Farthing, Royal Marine and founder of Nowzad and members of the dog warden service have brought to life their experiences and entertained guests for the evening.
Holistic therapies
A range of holistic therapies from dog massage, Reiki and aromatics are also arranged on certain breaks for guests and their dogs.
Hydrotherapy
The launch of a hydrotherapy centre a few miles away means that it is now possible to arrange hydrotherapy taster sessions for interested dog owners. However, this does incur an additional charge. If you are interested in this please let organisers know at the time of booking.
Prices
3 day weekend breaks start from £325
4 day weekday breaks start from £425
7 day weekday breaks start from £625
Go Xtreme weekend breaks start from £475
There is a saving of £50 per person for those willing to share a room.